What we do...
Thorne Wyness Architects are an award winning, inventive and dynamic architects partnership based on the Isle of Mull and covering the West Coast of Scotland. We are interested in making the most of any situation and we listen carefully to our clients needs, drawing on the specifics of site and location. Our aim is to create sustainable and generous architecture and we are interested in projects of any scale or complexity. We have over 35 years of combined experience across our team in new-build, refurbishment, residential, commercial, retail, and hotel architecture.
New build • Eco refurbishment • Passive House • Interior design • Hotels • Listed and Historic buildings • Architectural illustration • THERM modelling • Furniture design • Graphics •
Environmental Design
We can apply low energy principles to all projects and currently have two in-house Certified Passive House designers. We utilise these skills to varying degrees in all of our designs, new-build and refurbishment to create energy saving designs. We are also able to carry out custom PSI calculations and WUFI analysis for our clients, or for other architects and construction professionals.
Please find our Environmental Design Policy
here
.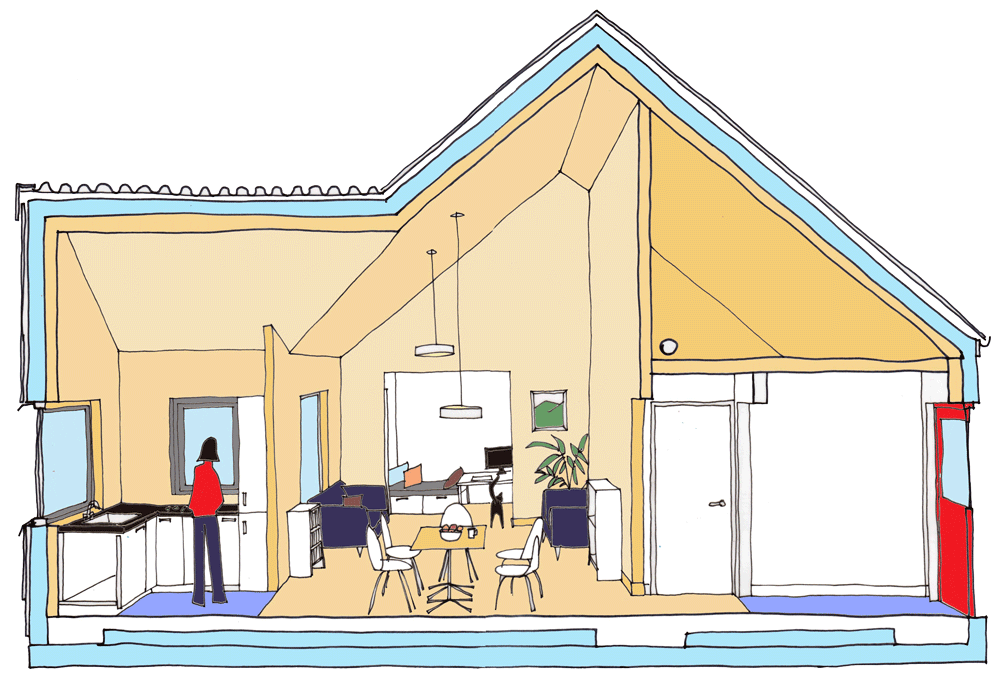 The Construction Process
As chartered architects we usually consider projects in terms of the RIAS work stages below. We are able to provide all or a selection of these services and we use the RIAS fee scale to determine our fee. More information for Clients can be found here.
Appraisal (A/B) - The aim of these stages is to ascertain whether the scheme is feasible on the site suggested and to identify any fundamental objections to the scheme, e.g. planning restrictions. These stages will not be required for all projects and they should, therefore, be charged on a time basis.
Outline Proposals (C) - Sketch drawings will seek to interpret the brief and to identify a possible solution. Your agreed set of outline drawings, sometimes called final sketch plans, will be produced once initial consultations with statutory authorities have taken place and the brief has been fully clarified.
Detailed Proposals (D) - The outline design is developed to show the appearance of a building, how fixtures and fittings are incorporated and how important details of construction are intended to work. Your chartered architect will check that the design proposals are within the agreed budget and in harmony with your stated objectives as regards quality, long term maintenance and performance. Your chartered architect will provide the information for design and layout to accompany your application to the local authority planning department. Legal information required by the local authority, e.g., site boundary, rights of access etc., should be referred to your lawyer. Your approval of the design drawings marks the completion of the primary design stages.
Final Proposals (E) - The application to the local authority for a building warrant requires the chartered architect (and consulting engineer) to submit drawings (and calculations) which show how proposals comply with the current Building Standards (Scotland) Regulations. Construction is not normally permitted to commence without statutory approval.
Tender (F/G) - Once the building warrant is issued and the technical drawings are complete, the way is clear to prepare tender documents. They usually comprise the contract drawings, the specification of materials and components, the Bill of Quantities and the Conditions of Contract. The latter two are normally in a standard format and define the obligations of the parties to the contract, namely yourself as the 'employer' and the contractor.
Building Contract (H to L) - The contractor consents to organise and direct the building work in accordance with his contractual obligations, and to supervise the work so as to achieve satisfactory completion on time. In traditional procurement, the chartered architect's role as contract administrator is to make periodic site visits to inspect the general progress of the work, to issue instructions to the contractor and, if necessary, to reject obviously unsatisfactory work.

If you wish closer inspection of the contractor's work you can employ a clerk of works, or come to an agreement whereby the chartered architect makes more frequent visits to the site. Your chartered architect will report to you on matters of progress, on any unforeseen circumstances on site, any variations in budget or programme, and will issue periodic certificates for stage payments due to the contractor.

Care of the Building - Buildings need proper maintenance. If they are to remain in good condition, they require regular inspection, especially external elements. Your chartered architect can help you to plan a sequence of inspection and maintenance procedures especially for those parts of a building exposed to the rigours of our climate. If you so wish, such help can include the provision of a maintenance manual. Remember that minor problems can become major problems if not attended to.