About Us
Jenny Wyness and Will Thorne started Thorne Wyness Architects in 2010.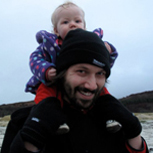 Will Thorne BArch PGDip MA.
Will was born and brought up in London, and studied Architecture at the Macintosh School of Architecture in Glasgow, and then at the Bartlett School of Architecture in London. Since graduating in 2003, Will worked for Anne Thorne Architects, and then for the last 7 years for Richard Rogers (RSH+P). He has over 10 years of experience of a wide range of projects, from nursery schools to skyscrapers and international airports. Will is also interested in robotics, computers, thermal dynamics, and all things technical. View a list of the projects Will has worked on here.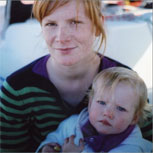 Jenny Wyness BArch PGDip MA RIAS AECB.
Originally from the Isle of Skye, her family moved to the Isle of Mull in 1995. Jenny studied Architecture at the MAC in Glasgow, and then Architecture and Architectural History at North London University. She has worked with Denton Corker Marshall Architects, Westwoods Architects, and Ash Sakula Architects, on projects ranging from boutique interiors, hotel, retail, and listed refurbishments to new build housing, and offices. Jenny is also a member of Knit Architecture, a design collective organising architectural installations and workshops with the community. Jenny is a passive house designer and is particularly interested in interior design and the use of colour and light. View a list of the projects Jenny has worked on here.
Collaborators
Anne Thorne Architects
We also collaborate with Anne Thorne Architects Practice, who have over 20 years of experience delivering low-energy housing and community buildings, such as their Straw bale house and their Sure start facility Granville Plus. Their portfolio includes award winning schemes, such as Bateman Mews, and Haringey Eco-Hub. ATAP have designed numerous passive house projects and currently have a co-housing passive house development of 23 residences on site.
Johnny Barrington - Photographer
All the best photos of our work are taken by Johnny Barrington, an excellent photographer and film maker.