About Us
Jenny Wyness and Will Thorne started Thorne Wyness Architects in 2010. Our office is based in Tobermory, on the Isle of Mull.
"Jenny and Will worked patiently with a couple of building novices to define the renovation and extension of a tired Victorian house. They were creative in suggesting some beautiful and sensitive options for modifications and were very supportive in guiding us throughout the process. We are extremely happy with the outcome of our project and could not have done it without their professional friendly input."
"This small terraced property required an imaginative solution to provide a modern holiday home capable of sleeping six. This involved a major upbuilding and reconfiguration. Will Thorne listened to our requirements and offered a range of imaginative possibilities that we would not have thought of. Once an overall plan had been agreed he provided detailed drawings and specifications for the builder and the application for planning permission. The final result is wonderful and well beyond what we hoped for. The internal space has been transformed from a series of tiny boxlike rooms to a light open plan living area. A cold, damp feeling house is now comfortable warm and dry. He worked within the constraints of a terraced building and came up with solutions that are both modern and faithful to the island traditions. Overall the firm was a pleasure to work with."
" A real pleasure to work with Jenny and Will on our outbuilding project for the Old Manse. The design was excellent and we are very happy with the end result"
" Jenny and the team at Thorne Wyness provided us with an excellent service in providing a feasibility study for our proposed development. We would highly recommend their services."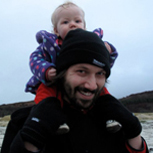 Will Thorne BArch PGDip MA.
Will was born and brought up in London, and studied Architecture at the Macintosh School of Architecture in Glasgow, and then at the Bartlett School of Architecture in London. Since graduating in 2003, Will worked for Anne Thorne Architects, and then for the last 7 years for Richard Rogers (RSH+P). He has over 10 years of experience of a wide range of projects, from nursery schools to skyscrapers and international airports. Will is also interested in robotics, computers, thermal dynamics, and all things technical. View a list of the projects Will has worked on here.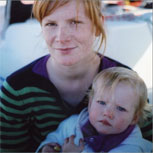 Jenny Wyness BArch PGDip MA RIAS AECB.
Originally from the Isle of Skye, her family moved to the Isle of Mull in 1995. Jenny studied Architecture at the MAC in Glasgow, and then Architecture and Architectural History at North London University. She has worked with Denton Corker Marshall Architects, Westwoods Architects, and Ash Sakula Architects, on projects ranging from boutique interiors, hotel, retail, and listed refurbishments to new build housing, and offices. Jenny is also a member of Knit Architecture, a design collective organising architectural installations and workshops with the community. Jenny is a certified passive house designer and is particularly interested in interior design and the use of colour and light. View a list of the projects Jenny has worked on here.
Elena Sánchez Blanco BArch PGDip MArch
Elena was born in Spain, and studied Architecture at the Higher Technical School of Architecture in Seville. Before graduating in 2013, Elena took internships with several Spanish Architectural Studios and with Manipulazione Internazionale Architects in Moscow. She then worked for Kolker Kolker Epstein Architects, in Tel Aviv; and for OHLAB Architects, in Madrid. Elena joined Thorne Wyness Architects, and registered with the ARB, in April 2014, and became a Certified Passive House designer in 2015. Her area of speciality is Bioclimatic Architecture and low-environmental-impact projects.
Collaborators
Anne Thorne Architects
We also collaborate with Anne Thorne Architects Practice, who have over 20 years of experience delivering low-energy housing and community buildings, such as their Straw bale house and their Sure start facility Granville Plus. Their portfolio includes award winning schemes, such as Bateman Mews, and Haringey Eco-Hub.
Johnny Barrington - Photographer
All the best photos of our work are taken by
Johnny Barrington
, an excellent photographer and film maker.